Hurtle Myrtle revives Light of Peace Family
by Jennifer Churchill, 2012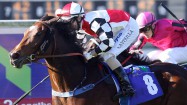 An example of how a family can hang by a thread has come to the fore through the talented five-year-old mare Hurtle Myrtle, the daughter of Dane Shadow who fulfilled her great promise at the recent Victorian carnival with her big victory in the Group I VRC Empire Rose Stakes.
The win brought the five-year-old mare's earnings to $753,700, from three previous wins that also included the ATC Sapphire Stakes-Gr.2 and BRC Dane Ripper Stakes-Gr.2.  A consistent performer throughout her career, she has also been placed in the AJC Flight Stakes-Gr.1., as well four other Group races.
The vagaries of luck in breeding can cause a family to wax and wane over many generations, and such is the family in question which has been revived through the 1973 foaled mare Light of Peace.
Without Light of Peace's contribution, her family that reaches back to the St Albans mare, First Lady, would be virtually extinct.  Foaled in England in 1865, First Lady was imported here by the Hon E K Cox, for his legendary Fernhill Stud at Mulgoa in New South Wales.
First Lady started her stud career brilliantly with her second foal being the great racehorse Grand Flaneur (by Yattendon), unbeaten in nine starts and easily the best of his generation. Grand Flaneur's eight stakes wins (all at three) included the Melbourne Cup, AJC and VRC Derbies, VRC Champion Stakes and St Leger. Grand Flaneur was retired as a four-year-old (early in those days) to Andrew Town's historic Hobartville Stud at Richmond, where he became an outstanding sire.  Ironically, the present day Hobartville Stud, owned by Sydney business man, Grahame Mapp, was to figure prominently in the resurgence of the First Lady family, and is the birthplace of Hurtle Myrtle.
Grand Flaneur's 23 stakes winners included 13 that would be now rated as Group I winners.  They included the Melbourne Cup winners, Patron and Bravo, the brilliant miler, Hopscotch, and specifically, Merman, a horse exported to England to win the Ascot Gold Cup and Goodwood Cup, emphasising the development of the Australian Thoroughbred.
Apart from the brothers Booval and Royal Blue (both winners of the QTC Exhibition Handicap) and a half-sister, another minor stakes winner in Archie's Daughter, all three out of First Lady's daughter, My Lady, nothing more was forthcoming for the family for a number of generations.
Among the descendents of First Lady, mention should probably be made of her daughter Fine Lady, the tenth dam of 1994 AJC Oaks and STC Storm Queen Stakes winner, Alcove.
However, it was Grand Flaneur's full sister, Paresseuse, who partially carried on the family through her third generation foals Widgiewa (a son of Maltster who won the SAJC Goodwood Handicap) and the VATC Debutante Stakes winner, Celosia (by Linacre).  Celosia established a family in Victoria and South Australia that produced a handful of minor stakes winners, but it was her daughter Myosotis, by that fabulous sire The Welkin (GB), who produced for Kia Ora Stud the champion horse Chatham. By the Magpie (GB) horse, Windbag, Chatham raced for six years winning 24 races and £18,000 in stakes, a huge sum in those days.  An indication of his class was that 21 of his wins were stakes races. They included two Cox Plates, an Epsom, a Doncaster, and 11 weight-for-age events.  Chatham went on to be a leading sire, first in New South Wales and later in South Australia. He sired 16 stakes winners including the Sydney Cup winner, Craigie, the Stradbroke Handicap winner, High Rank, and the South Australian Derby winner, Conservator.
Myosotis was sister to three stakes winners including Debutante Stakes winner, Versine, who is a distant ancestress of listed winners Coronation Cadet, Picket Fence and Magic Konstev and whose line of survival is tenuous. Another brother was Petunia (South Australian Stakes) and an Adelaide Guineas winning sister, Welosia, who produced Kelos, winner of the Wakeful Stakes and Newmarket Handicap.
To matings with The Welkin's son, Thrice, Celosia also produced three-quarter siblings to Myosotis in the Hotham Handicap winner, Roc, and to Gerbera, ancestress of Light of Peace, the subject of this article.
Foaled in 1927, Gerbera was a winner and through Display, a daughter of Constant Son (GB), became grandam of a very good racemare called Flag Top.  By Widden Stud's outstanding sire, Brueghel (ITY), Flag Top was the winner of six races on Sydney metropolitan tracks and placed in the 1955 Widden Stakes, Flag Top, was given a great chance at stud and was a terrific producer.  Her first five foals were by stallions at Woodlands Stud, and after two foals by Prince Regoli, she followed with colts by Garganey (USA) and Snark (FR) and fillies by Persian Lyric and Wilkes (FR).
Flag Top produced eight winners from her 11 foals to race. Among them were four city winners, but it was the non winning Flag of Peace who was to carry on the line.  A daughter of the leading sire Pipe of Peace (GB), she was Flag Top's second foal and was placed twice at Hawkesbury from eight starts.
Flag of Peace had seven foals, five of them and bred by clients of Woodlands Stud, then the property of George Ryder and David Chrystal, for three minor winners. Three of her filly foals produced winners, and although two of them failed to breed on, the other was Light of Peace, a daughter of the Romulus stallion Light Wind (FR).
Light Wind was only a moderate sire.  The best of his three stakes winners was Sou Wester, bred on the same cross as Light of Peace (out of a Pipe of Peace mare), who won the Caulfield Guineas-Gr.1. As a broodmare sire, two of his five stakes winners were out of Light of Peace, but his daughters also produced the New Zealand Derby-Gr.1., ARC Oaks Stud Classic-Gr.1. and Avondale Guineas-Gr.2. winner Zonda, and Magnolia Hall, winner of the AJC Summer Cup-Gr.2. and QTC P J O'Shea Stakes-Gr.2., and third behind Let's Elope in the Melbouurne Cup-Gr.1. and Lord Revenir in the AJC Metropolitan Handicap-Gr.1.
Light Wind's greatest legacy, however, is through Light of Peace and her burgeoning contribution to Australian breeding. The property firstly of Mr J J McGuire in Victoria, Light of Peace spent most of her stud life at the aforementioned home of Grand Flaneur, Hobartville Stud at Richmond, now a major breeding concern once more, under the direction of Sydney business man, Grahame Mapp.
Mr Mapp firstly acquired Light of Peace's second foal, Clear Apollo, as a yearling, and later bought her dam, Light of Peace, from trainer Bart Cummings in 1981. She was carrying the Gypsy Kingdom colt, subsequently, called Flame of Peace, her first foal at Hobartville, then three years later produced the champion colt, Star Watch. A full record of her Light of Peace's produce follows:
1977 APOLLO'S FLAME, chestnut gelding by King Apollo.
Light of Peace's first foal and first stakes winner, Apollo's Flame raced from three to eight years, his two wins at three including the SAJC Great Western Plate-L, and AJC Biraganbil Handicap. He won the AJC General Command Handicap at Randwick at four years and another metropolitan race in Adelaide as a six-year-old.
1978 CLEAR APOLLO, chestnut filly by King Apollo.
Light of Peace's next foal, a brilliant acquisition by Grahame Mapp, was Clear Apollo who, trained by Bart Cummings, won six races on Sydney tracks at two, three and four years.  Bart had a big opinion of the filly and told Mr Mapp that had she been a hand higher she "could have been anything". She was also three times stakes placed – second in the STC Theo Marks Quality-Gr.2 (beaten a head), the Civic Stakes-L, and Tatts (NSW) Tramway Handicap-LR – fourth in the STC Winter Handicap-L, and a brilliant fifth of 20 runners inc Dalmacia's 1982 Epsom Handicap.
Clear Apollo became a marvelous broodmare. Like her mother, a resident of Hobartville Stud, she produced 13 live foals (11 of them fillies) before her retirement in May 2005, No less than 10 of her foals were winners. Of her two colts, the only one to race was the stakes winning Force Apollo (by Catrail (USA)), whose 6 wins included the STC Heritage Stakes-L and Darby Munro Quality Stakes-L, as well as running seconds in the Tatts Roman Consul Stakes-Gr.3. and Hawkesbury Safilo Cup-L., and fourth in three other stakes.
Clear Apollo also produced the stakes placegetters, Frisky Lady (by Kenmare (FR), and  Caltra (by Sovereign Red).
Frisky Lady won three races in Brisbane and ran third in the VATC Blue Diamond Prelude-Gr.3. She is already the dam of six winners including city winners Typhoon Uno, Netage Star, and Great Idea.
Caltra won four Sydney races and placed in the AJC Analie Handicap-L. She has excelled as the dam of SAJC Morphettville Plate-L winner, Catriona (by Bellotto (USA)), and grandam of the brilliant Graceful Anna (by Canny Lad) winner of $1,023,050 from six wins including the BRC Vo Rogue Stakes-Gr.3, the Gold Coast Magic Millions 3YO Trophy-RL, and the Gold Coast Silk Stocking-L, and  placings in the ATC Breeders' Classic-Gr.2, Millie Fox Stakes-Gr.3., Liverpool City Cup-Gr.3. and BTC Classic-Gr.3.
Clear Apollo's next best performer was Miss Astur, by Royal Academy (USA).  She won six races including three at Doomben. At stud in Western Australia, she has produced three winners, two by Hussonet (USA), including the multiple Brisbane winner, Dusty Gold, and the Starcraft filly, Foo Foo the Snoo, a winner at Ascot.
Breaking News, a dual Sydney winner by Brief Truce (USA) from Clear Apollo, is the dam of News Alert, a Danehill Dancer (IRE) colt who is the winner of eight wins and $552,800, including the Tatts (Qld) W J Healy Stakes-Gr.3., STC Canterbury Classic-L., City Tatts Lightning Stakes-L and BTC Chief de Beers Handicap-L, and runner-up in three listed races.
Three other fillies from Clear Apollo are stakes producers. My Muse, a winner by Sovereign Red is the dam of the Rubiton gelding, Prince Rubiton, whose eight wins included the MRC Japan Racing Association Stakes-L, as well as being four times stakes placed. Clear Image, a winner by Bellotto, is the dam of Lucid Reflection (by Fasliyev (USA)), an Adelaide winner of 12 races who was runner-up in the Kalgoorlie-Boulder Hannans Handicap-L. Lady Elegance, an unraced daughter of Sir Dapper, is the dam in Western Australia of the Laranto gelding Siranto, winner of the Belmont Guineas-L, and runner-up in the WATC Dayana Stakes-L.
Thanks to Clear Apollo's 11 fillies, she has a great number of well bred producers and future producers in the paddocks throughout Australia.
1979 APOLLO'S LIGHT, chestnut filly by Ngawyni.
This filly did not race and and had only three foals all of whom failed to become winners. He only filly failed to produce a live foal.
1980 LIGHT OF MAN, chestnut gelding by Colourman (USA).
Light of Man raced for five seasons, from three to seven years.  He won eight races , one in Adelaide and the others on South Australian and Victorian country tracks.
1981 Missed to Colourman (USA)
1982 FLAME OF PEACE, chestnut filly by Gypsy Kingdom.
Flame of Peace was the first foal bred from Light of Peace by Hobartville Stud. She won two races, including the STC Pyrmont Handicap. Her four winners at stud included Cessation, a gelding by Marscay, who won 11 races including four on Sydney tracks.
1983 LIGHT OF CENTURY, bay filly by Century.
Another Sydney winner followed in Light of Century, whose two wins included an AJC 3YO Fillies Handicap. Among her four winners, the "iron horse", Imperial Cross (by Victory Prince) is worthy of mention.  He races 90 times from two to nine years, winning 14 races (including the SAJC Nouvelle 2MW and Heartbalm Handicaps, the Oakbank Country Cup, Mount Gambier Gold Cup, Millicent Cup, and just missed out on black type when fourth in the SAJC Tattersalls Cup-L.
Light of Century's foals have also included seven fillies, three of whom – Carry over Champ (by Victory Prince), Brief Prospect (by Brief Truce (USA)) and Caring Kind (by Marauding) – are matrons at Hobartville, They collectively have produced eight more fillies for the family, The very promising broodmare, Caring Kind, has produced four winners including the fillies, Bold Horizon (a Sydney winner by Hurricane Sky), Stakeout (by Strategic) and the recent Garry White trained Hawkesbury winner in Diamond Springs. Bold Horizon, a Sydney winner is also already the dam of the Dane Shadow filly, Shadow Line, the winner of two races at Hawkesbury this season.
1984 Foal (died) by Marscay.
1985 STAR WATCH, chestnut colt by Bletchingly.
Light of Peace's next foal was easily her best. Bred at Hobartville, Grahame Mapp recalls him as a magnificent specimen as a youngster, but, as he was living in England at the time, decided to sell some of his large number of thoroughbreds, much to the protestations of his staff. Thus Light of Peace's 1985 yearling went to the William and Inglis & Son's Easter Yearling Sale, before finding fame as Star Watch.  Mr Mapp tells me that he was very proud of him and truly never regretted having sold him as he brought much joy and recognition to all at Hobarvtille and future value to the growing Light of Peace family.
Raced by the Ingham brothers and trained by Tommy Smith, the brilliant Star Watch was rated Australia's champion two-year-old after winning six races including the STC Golden Slipper Stakes-Gr.1, Skyline Stakes-Gr.3, AJC Kindergarten Stakes and two two-year-old races at Randwick.  His only defeat at two was when second to Zeditave in the STC Pago Pago Stakes-Gr.2.
Star Watch won the AJC Up and Coming Stakes-Gr.3. first up as a three-year-old.  He then ran second to Zeditave in the Ascot Vale Stakes-Gr.2. and third in the Moonee Valley Stakes-Gr.2. before going amiss in the Caulfield Guineas-Gr.1. After one more unsuccessful start as an Autumn three-year-old, Star Watch was retired to stand at the Ingham family's Woodlands Stud.
As a winner of the Golden Slipper (Australia's sire making classic), big things were expected of Star Watch, but tragedy was looming when the young sire died after covering only his second book of mares. The tragedy became further evident when 12 of his first crop were successful as two-year-olds. They included Star of Nouvelle who won the STC Reisling Slipper Trial-Gr.2. and WATC Queen's Plate-L, and was Group I placed in the WATC Karrakatta Plate. Bella Serata was another first crop two-year-old stakes winner who won the South Australian Stakes-Gr.3. and two listed races.
Star Watch's first crop success extended into their three-year-old year and beyond.  From 51 runners, 39 were winners, with another five being stakes winners. They included the brilliant Star Dancer whose nine stakes wins included the MRC Futurity Stakes-Gr.1 (run at Flemington) the ARC Auckland Classic-Gr.1., and Japan Racing Association Classic-Gr.1. and four other Group races.
The Queensland Derby-Gr.1 winner, Tenor was another from the first crop. Tenor's several placings included thirds in the Caulfield Cup-Gr.1. and Epsom Handicap-Gr.1.
Sky Watch won the QTC Grand Prix-Gr.2, ran second in the STC Storm Queen Stakes-Gr.1, and fourth in the Queensland Oaks-Gr.1; Port Watch won a listed race at Caulfield and ran second behind Mahogany in the Caulfield Guineas-Gr.1; and Bordeaux was another stakes winner from Star Watch's first crop.
Star Watch's second and last crop yielded a further 42 winners from 54 runners, bringing his total to 81 winners from 105 runners, a very commendable 77.1%, with earnings of just under $6 million in stakes.
The star of the second crop was the outstanding Hurricane Sky, who earned $893,170 in stakes from six wins. One of the best of his age, Hurricane Sky won the coveted Blue Diamond Stakes-Gr.1. at Caulfield, and later added another Group I success in the AJC All-Ages Stakes. He also won the Caulfield Autumn Classic-Gr.2., two listed races, ran second in the Australian Guineas-Gr.1. and C F Orr Stakes-Gr.1., third in two other listed races and fifth in the Golden Slipper-Gr.1.
Other stakes winners from the second crop were Pauillac, winner of the STC Todman Slipper Trial-Gr.2, and second in Newcastle's Coca-Cola Classic-Gr.3, and Obsessed, winner of the Newcastle Spring Stakes-L, and the City Tatts Ming Dynasty Quality-L.
Three of Star Watch's colts were given their chance at stud, the most prominent being Hurricane Sky, who has been a resounding success, firstly at Wakefield Stud at Scone and latterly at Durham Lodge in Western Australia.  The sire of winners of nearly $30 million in stakes, Hurricane Sky has left 64.5% winners:runners, among them 18 stakes winners.  These included the four time Group I winner, Divine Madonna (winner of $2 million in stakes), another four time Group I winner in Grand Delight (three in Hong Kong), the MRC Futurity Stakes-Gr.1. and C F Orr Stakes-Gr.1. winner, Desert Sky, the MRC Oakleigh Plate-Gr.1 winner, River Dover, and eight other Group winners.
Hurricane Sky's daughters are fast emerging as successful broodmares, having already produced eight stakes winners including Group winners, Carrara, First Command, One World, Universal Ruler, Shared Reflections and Gingerbread Man.
Pauillac and Tenor were the other Star Watch colts to go to stud. Exported to New Zealand in 1996, Tenor served only five mares in his only season at stud and from three runners, two were good winners in the South Island including Il Tenore whose eight wins included Riccarton's Hororata Gold Cup. Paulliac stood at Judy Maheine's Stratheden Stud at Tamworth and more recently at Kendel Park at Willow Tree in New South Wales.
Pauillac had an early success when his son On a High won the Villiers Stakes-Gr.3. and Japan Racing Association Plate-L. at Randwick and was six times in the money in black type races including fourth in the Hawkesbury Cup-Gr.3. He was also sire of Rudolfus, winner of Tamworth's Magic Million 2YO Classic and third in the AJC Fernhill Handicap-Gr.3. These are the best two of 57 winners sired by Pauillac. Pauillac mares have produced Drovetti – placed in a two Group races in Singapore – and Lohan – runner-up in the Canberra Black Opal Stakes-L.
Star Watch's loss after only two crops is now being brought home to us further with his success as a broodmare sire.  His daughters have produced winners of $12 million including 15 stakes winners. They include the Group I winners Hotel Grand and Outback Prince, both now getting winners at stud, the outstanding filly, Camena (three Group wins and twice Group I placed), and the Singapore Gold Cup-Gr.1. and dual Malaysian Group I winner, To Arms.
1986 Unnamed chestnut colt by Biscay.
Light of Peace was booked back to Bletchingly in 1985 but, because of an infection at Widden Stud, she was diverted while en route to Biscay at Bhima Stud, where Star Watch was foaled. The mating with Biscay produced a fine colt but unfortunately he became ill as a yearling and died.
1987 Missed to Sovereign Red (NZ).
1988 Slipped to Bletchingly.
1989 Winds of Peace, chestnut filly by Bletchingly.
After three unproductive seasons, Light of Peace produced a full sister to Star Watch in Winds of Peace.  Winds of Peace placed once at Hawkesbury from only seven starts, but she has been most successful in the paddocks of Hobartville Stud.  From 11 foals to date, eight have raced and six are winners, five of them on metropolitan tracks, including the stakes winner, Whisper Bay (by Royal Academy (USA)), who was successful in the listed MRC Chairman's Handicap. Other multiple city winners were Mediator, Future Force, Currumbin Rock and Ravenswood, the latter the dam of the brilliant Hurtle Myrtle.
Peace Academy was raced by Hobartville Stud and trained by Hobartville's manager and private trainer, Garry White. Peace Academy was a winner at Rosehill and five times Sydney placed.
Bred by Hobartville Stud, Hurtle Myrtle was purchased at the William Inglis Classic Sale for $55,000 by Warwick Farm trainer Matthew Smith who trains the mare for a syndicate of nine owners.
Unfortunately Winds of Peace was Light of Peace's last filly foal, but Winds of Peace has more than made up for the lack of future broodmares.  She has so far had no less than eight fillies among her 12 foals, the latest being a yearling by Choisir. Also still racing, is Shadow Grande, in training with Garry White who has shown ability in five starts.
1990 CONVIX, brown gelding by True Version.
Remaining in the ownership of Hobartville Stud and trained by Garry White, Convix won two races at two years at Randwick and Warwick Farm and was placed four times from 21 starts.
1991 MARKET FORCE, chestnut colt by Marscay.
A strapping chestnut colt, Market Force was originally trained by Lee Freedman and ran second at his only start before Lee sustained a suspension, and Mr Mapp brought the colt back to Ron Quinton at Randwick.  Quinton won four races with Market Force and multiple seconds and spoke of him as a "real gentleman".  The horse was retired to stud in Victoria but didn't make it as a stallion, leaving only 14 winners from 38 runners, the best of whom was an Adelaide winner in Lex Luthor.
1992 Not served.
1993 EARLY MARK, chestnut colt by Marscay   
Retained for racing by the Mapp family, Early Mark had conformation issues which affected his racing ability.  He was given a chance with coutry trainer at Tamworth but showed no form in six starts and was retired to a good home.
1994 PEACE COMMAND, bay colt by Marauding (NZ).
Peace Command was trodden on as a foal when visiting Woodlands Stud, the accident resulted in a badly injured leg and he was nursed back to health at Hobartville but was unable to be raced. NSW western districts breeder Paul Newell, acquired the colt for his Meadowland stud at Canowindra.   He did not attract many mares but from 41 runners he was represented by 16 winners, the best of whom was Command Decision, bred and raced by Hobartville whose six wins included races at Randwick, Rosehill and Warwick Farm. Ultimately, Command Decision was sold to Brisbane interests in foal to Dane Shadow, the resultant foal being Shady Deal who has been placed 10 times to date, mostly at the Sunshine Coast.
1995 ROYAL CHARTER, bay/brown colt by Canny Lad.
Raced by Hobartville Stud Pty Ltd Syndicate and trained by Garry White, Royal Charter was a winner at Randwick, before being placed at the Orange Agricultural College for the edification of horse husbandry students.   He has sired a handful of winners bred at Orange.
Light of Peace was "retired" after giving birth to Royal Charter but Grahame Mapp was persuaded to let her visit the sire sensation Danehill (USA) in 1998  She failed to conceive so she was formally retired and lived a comfortable life for many more years until her death at 30 years in December 2003. She is buried adjacent to the historic Hobartville homestead, and when her daughter Clear Apollo died in December 2008 (also aged 30 years) she was buried alongside her mother.
It can be seen that the Hobartville bred Dane Shadow, the sire of Hurtle Myrtle, a brilliant young sire will be playing a major part in the future success of the Light of Peace family, Grahame Mapp purchased Dane Shadow's dam, the top class racemare Slight Chance as a broodmare who produced Dane Shadow in 2001. Trained by Garry White he won an official 2YO Trial and placed a close second in another to the subsequent champion two-year-old Dance Hero. Hobartville then sold 49% of the horse and later, after his racing career with John Hawkes, each of the partners agreed to sell part of their shareholding to Kitchwin Hills and clients. Dane Shadow showed terrific ability, running second in the Silver Slipper Stakes-Gr2., behind Charge Forward in the Todman Slipper Trial-Gr.2. and ran a creditable seventh in Dance Hero's Golden Slipper.  He became a stakes winner as a three-year-old, winning the Tatts Ming Dynasty Quality Stakes-Gr.3, and was placed in the Up and Coming Stakes-Gr.3., Missile Stakes-Gr.3., and Newcastle Spring Stakes-Gr.3., and fourth in the Group I George Main Stakes.
Hobartville Stud retains 40% of Dane Shadow, and the horse has been well supported by the Mapp family, and most of the Hobartville mares descended from Light of Peace, have produced foals by him.
Dane Shadow's oldest progeny are five-year-olds and from an initially limited number of runners he has sired 72 winners, his five stakes winners including three at Group I level – Hurtle Myrtle, Shellscrape (Won the AJC Galaxy, two other Group races and now first serving his first season at Wattle Brae Stud in Queensland) and this year's South Australian Derby winner, Shadows in the Sun. Now that he has proved an early success, Dane Shadow's larger crops of better mares in the future makes him a serious prospect to become one of Australia's leading sires.
Grahame Mapp has at least 20 mares from the Light of Peace family at Hobartville.  These include at least a dozen mares currently producing, plus many young fillies in the wings by such sires as Choisir, Stratum, General Nediym, Charge Forward, Strategic, Marauding, Hurricane Sky, Excites, Manhattan Rain and of course a number by Dane Shadow. Even though other lines descended from her foundation mare appear to be mostly extinct, there is no chance of that happening through the Light of Peace branch.
There are sure to be many more black type winners in the future, but so far the 10 stakes winners descended from Light of Peace are as follows:
Champion – STAR WATCH (1985)
Group I winners – HURTLE MYRTLE (2006)
Group winners – NEWS ALERT (2004), GRACEFUL ANNA (2006).
Listed winners – APOLLO'S FLAME (1977), PRINCE RUBITON (1986), CATRIONA (1993), SIRANTO (1995), FORCE APOLLO (1999), WHISPER BAY (2005).